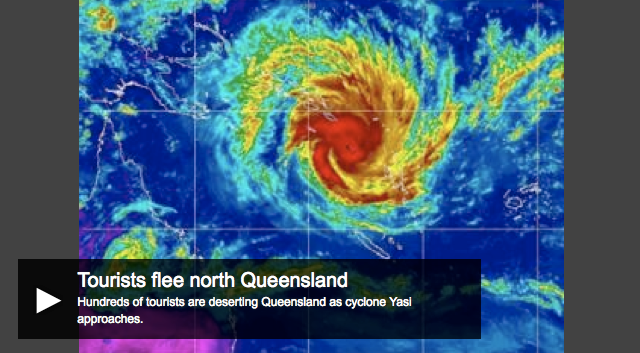 I've never been good at dealing with change.
Ever.
My favorite gym replaces its machines.
My route to work gets completely repaved, adding 19 million additional lanes.
My favorite candy "updating" itself (I will never get used to blue M&Ms).
To me? It's all nonsense.
My first February First was going to be a solid 1 hour of meditation. No distractions. Lights. Sounds. Interference.
That was the plan.
And then I realized that I was in the middle of Cyclone Yasi.
Usually I'm all over the news, but I don't watch much TV at all and my primary news source comes from The New York Times. So I had no idea of the severity of the storm, and the US media isn't exactly providing minute to minute updates on the monster of a cyclone that's going to hit Queensland.
I'm used to hurricanes, being from Miami, but things are different here. The cyclones don't pack devastating tornadoes. They don't, um, prepare.
At all.
We're getting evacuated tomorrow. Right now, I'm right on the beach and pretty scary storm surges are expected. Nobody seems too fussed, and I (the Florida girl, who refuses to care about a storm until it's Category 2) am scared out of my pants.
So my First, on this First of February, is to try to adapt to change, and crisis, well. I came here to do a website and that's something that is obviously not a priority right now. I've lent my skills and resources out where they've been beneficial, and now I think everyone is just trying to stay safe.
The lesson I wanted to learn from these February Firsts was to not only do things, and be more proactive in my life, but to feel grateful. I feel grateful for all the super safe moments I have had that I didn't even take advantage of, and I feel grateful now that I have amazing friends that are looking out and that I'll see at the end of this cyclone mess.
If I lose all of my material belongings, that'll be fine. I just hope everyone stays safe and that the people already devastated by floods here shoulder the least of this burden.
Yasi? You suck.