I want to tell you about my beautiful, perfect Sunday. About how The Boy conquered his fear of cameras and showed me a terribly good time.
I want to.
But first, I'd like to tell you about how the boy almost got us stranded in dog-sized mosquito infested woods overnight and celebrated our freedom by hurling his car down a mountain with the motor off (read: no brakes).
Everything started great. I'll tell you about it tomorrow. I really had a lovely, lovely time. We had a picnic in the woods, he arranged the food so I could take pictures of it, the whole thing was beyond cute.

Until it was time to go. (Background: The Boy likes to do things and then think. Which usually works out OK and his spontaneity and free-spirit are two of the top reasons I think he's great. Sometimes, though, things go indescribably wrong.) I had reached my limit of getting bitten by mosquitos – seriously, my body is COVERED in bites – so I padded my way to the car while he finished up his nature nap, or whatever it was that he was doing, to read the end of an article on Ralph Fiennes (yum) and wait. I finish. He meets me in the car. He starts the car, which he had (stupidly) parked on a decline, rear facing up.
Oh Crap Moment #1:
Putting the car in reverse is doing nothing to back us up to the top of the hill. I get out (apparently I was making the car front heavy?) to the smell of burning rubber. At which point I close the door and inform The Boy that I'll meet him at the top. If he doesn't blow himself up first.
Oh Crap Moment #2:
Further efforts to nudge the car onto the street are pointless. More burnt tires and somehow he's actually going further down the hill than up. I'm hoping he has a plan but am mostly concerned that he's going to crash into a tree.
This ISN'T HAPPENING TO ME Moment #1:
He's completely descended the little hill we were on and now his truck is in the middle of a clearing. I think he was hoping to drive down, turn the truck around and drive up. Instead, he's now sticking branches under one of the back tires. He later explains that this has something to do with horse-power and traction but all I'm thinking is "the fuck?"
This ISN'T HAPPENING TO ME Moment #2:
After I tell him, oh, I don't know, TWENTY TIMES, that we should just flag someone down with 4WD to help us up the hill, he finally decides to go for help. I hang back because of the pack of feral dogs that meets us in a driveway between the road and the inn we were going to ask for help.
I'm Going to Die Here Moment #1:
15 minutes later, he's back. No help. Nobody was at the inn. He took so long because he was playing with the dogs. Because this was obviously the perfect time for that. I slam a few doors and walk up to the road to see if my combination of boobs, nice legs and shorts will get someone to stop and help us. It doesn't (wtf, Australia?) and I turn around to find him piling rocks into the back of the truck.
I'm Going to Die Here Moment #2:

"What, am I supposed to get in that?"
"Yes."
"Is this safe?"
"Sure."
< sobbing >
I'm in the bed of the truck. With rocks. Nothing to hold on to except for the cooler, which isn't that heavy because we pretty much only packed salmon and brie and some grapes. (fancy!)
I'm Going to Die Here Moment #3:
He starts the truck. More burning rubber, so I'm pretty much convinced the tire is going to blow up and I'll be maimed by shrapnel (What? I was emotional). The sun is setting and I'm wishing that I didn't have to die with my toenail polish in such a disgraceful state.
Long-story medium length, it works. The wheels gain traction (I'm trying really hard not to translate that into "I'm fat" and more "Gosh, those rocks were heavy") and we are free.
Only.
THE COOLANT LIGHT IS ON. So now that we've avoided a fate of being eaten alive by woodland creatures, we face the car blowing up from being overheated.
I ask him, as we start puttering along anyway, "Isn't this INCREDIBLY DANGEROUS?"
"Well, yeah if you keep the motor running."
"Don't you need it to be running for, you know, the brakes?!"
"Yes."
If I Die, I'm Taking Him with Me Moment:
The decline is something like, 18% grade. So The Boy alternates rolling downhill with turning the motor on every few minutes as it looks like a bend is coming up – so he'd have some ability to slow down. The details are hazy here because I was trying not to hyperventilate but I think he said something about the whole thing being good for the environment because we were using gravity and not fuel and the only reason I didn't stab him in the eye was because he had control of the steering wheel. And also he stopped at a pretty flower so I could take a picture.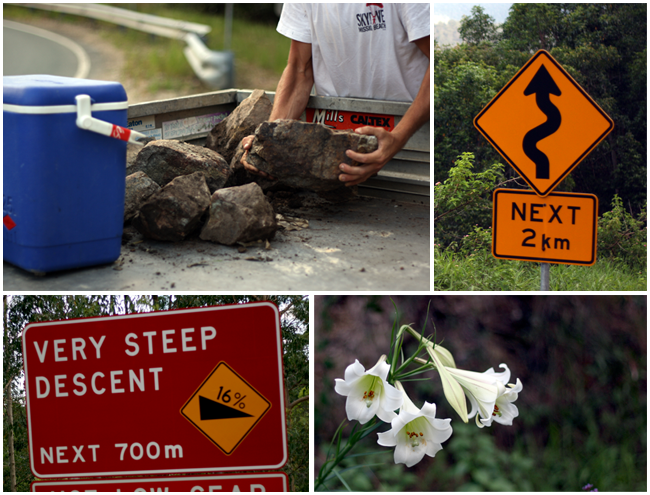 So we make it to the bottom of the mountain. He pours the ice water from the cooler into the engine as coolant and after a few minutes we're on our way. He thinks this is a great adventure, I think maybe I need to find a boyfriend that doesn't fancy himself MacGuyver just because he can get us out of a situation we never would have BEEN IN if it weren't for him.